IFBB FIGURE PRO LOUISE ROGERS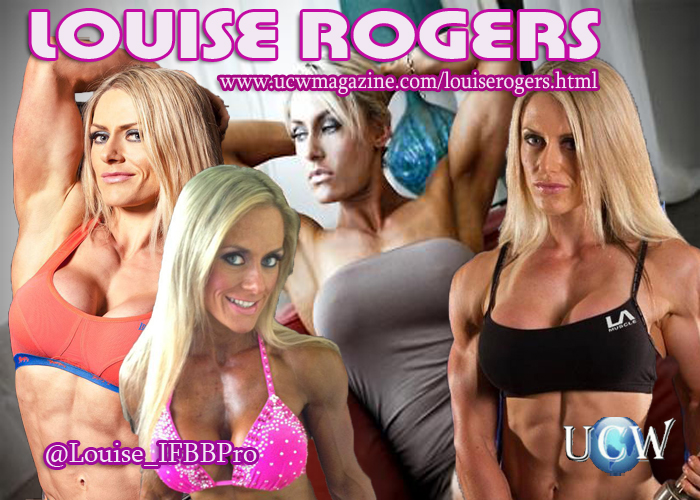 I began weight training when I was about 20-21 years old. Before this I trained in athletics, particularly sprinting. I was also heavily into classes and cardio training, for sometimes up to 2 hours a day. 

This changed after I completed the Premier Training Personal Training course. Upon completion of the course I started working part time in a bodybuilding/power lifting gym, and I was partnered up with a colleague who was training for power lifting competitions. It was an unlikely pairing however it gave me a real introduction to weight training, specifically power lifting. A few months later I made a switch to bodybuilding type weight training.. and from here I started regularly weight training and phased out much of my cardio training. 

After a while I started seeing changes in my physique. However it wasn't until about 5 years later that I thought I might give a competition a go! I remember I had often looked at different fitness magazines seeing the likes of Monica Brant and thinking "wow".. although I thought it would be unattainable. However after consistently training for so many years I thought I would try doing a local qualifier for Body fitness (figure) to see how I would go. 

I started preparing for my first show in January 2008 and I really had no idea what to expect from the whole competition experience! I also had no idea whether I would be 'good enough' to step on the competition stage. However I had a fantastic support team around me who were really encouraging me to have a go and try it… So I went along to compete at the South Coast UKBFF Qualifier. It was really quite overwhelming but I placed 1st – much to my shock!! From here I qualified to compete at the UKBFF/IFBB British Championships in Nottingham. 

I competed at the British Championships placing 1st. Becoming UK BodyFitness Champion 2008. 

My third and most recent competition was the IFBB World Championships in Como, Italy. I placed 5th overall in the world, becoming the first woman in the UK to achieve an IFBB Figure Pro card abroad!
"Louise Rogers is what you want to see in an athlete, she's talented, focused, querky, caring and determined. These are the qualities that make her approachable, these are the qualities that allow her to stand apart from many. I would not be shocked at all if she found herself venturing into the world of entertainment, either film, television or even sports entertainment, WWE may come a calling at some point. It was a definite pleasure to have her on the show and I look forward to having her on again in the future, keep an eye out for her in 2013," stated Louis Velazquez, host of the UCW Radio Show.
Websites: www.louise-rogers.co.uk
www.twitter.com/Louise_IFBBPro