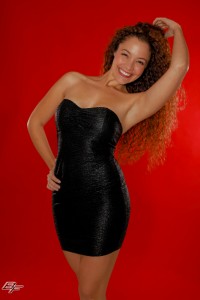 Stephanie Gerard is a Singer, actress, environmental activist and animal lover… she is French-Mexican, raised in Canada… Lover of the Beatles music, she accomplished her dream of recording a Tribute Album of the Liverpool fab four, with the approval from London by their Music Publishing Company… Her Album "Singing The Beatles" is now one of the most listened and sold CD's in the major music stores in Mexico.
She has completed a total of 9 albums and all of them have become top selling records in Mexico and Latin America. Her presence is fresh, modern and full of energy… She has stepped on all types of stages across the world, from small showcases in shopping centers, night clubs, massive events, TV and radio shows, all the way to the "Teatro de La Ciudad" located in Mexico, City and the famous "House Of Blues" on the Sunset Strip in Los Angeles, CA.
She speaks 5 languages, she's a ballet and hip-hop dancer and practices yoga. Stephanie has combined her singing with her acting career, (she studied Dramatic Art at the Center of Artistic Education "CEA", for 3 years in Mexico City), she has appeared in numerous soap operas for the TV Network "Televisa", such as "La Madrastra", "Mujer, Casos de La Vida Real", "La Fea Mas Bella" and many more…
She has done theater and classic plays such as "The Cherry Orchard", "Ce Formidable Bordel" and "The Physicists". Various commercials for important brands like Tasti-Lee, Colgate, Axe, Fiat and Chrysler/Dodge/Jeep/ Ram, Freeway Insurance, Sealy. Also appeared in Films such as "The Desire of Ages" (Golden Eagle Films / Myers Media), "In Da Cut" (NBC Universal / Biblical Films), "Pecado Mortal" (Mundo FOX / Sony Music / Nitro Group), "The Chemist" (Throwing Star Films / Al Bravo Studios), among others.
"Stephanie is an amazing person, she isn't afraid of taking chances in the pursuit of her dreams and is what inspires people, you can expect to see a lot more of her in Hollywood as her career is set to skyrocket," Stated UCW Radio Show Host Louis Velazquez
Websites:
Periscope – @ StephanieGerard