FEMALE ROCKER ALEXX CALISE
2015 Interview
2010 Interview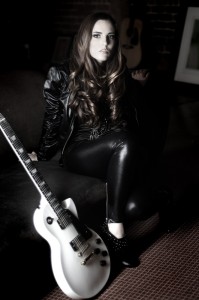 "I don't feel sorry for being who I am", proclaims sharp-tongued singer, guitarist and songwriter, Alexx Calise. Delivering a sound that is both fresh and uniquely her own, Calise combines crunchy rock riffs with probing lyrics and hooky pop melodies.
Told throughout most of her career to not play guitar as much or at all, and to pursue a more "proven" musical direction, Calise instead chose to focus even more so on her instrument, practicing some 5-6 hours a day, and follow the only direction she knew how to—her own.
Countless film and TV placements and millions of Youtube hits later, Calise has proven that her torchy vocals, impressive guitar chops and heart-and-soul lyrics are enough to make an incredible international impact, even as a completely independent artist.
Calise's hit song "Cry"–which became a web phenomenon almost overnight (spawning hundreds of covers, tributes and dance routines) after it appeared on the Lifetime show "Dance Moms"—-has gone on to sell well over 50,000 downloads independently and charted at #64 on the iTunes rock chart. Its official video features "Dance Moms" star, Maddie Ziegler, who danced to the song in several episodes of the show. Calise also recently performed her song "Survive" from her latest "AC3" EP on both "Dance Moms," and its spinoff show, "Abby's Ultimate Dance Competition".
In addition to music, Calise is also pursuing an acting career, and has appeared in a series of national Guitar Center commercials, a Disney "Science of Imagineering" DVD series, and in a Discovery Channel documentary entitled "The Science of Sex Appeal".
Ever-growing and ever-changing, the effervescent Calise is continuing to make waves one small step at a time, currently penning songs for a variety of major artists and writing songs toward her next album.
Calise's music has appeared on a multitude of different shows such as "Dance Moms" (Lifetime), "Dance Moms: Miami" (Lifetime), "Last Call With Carson Daly" (NBC), "The Voice" (NBC), Audrina" (Vh1), "Tough Love" (Vh1), "NY Ink" (TLC), "Next" (MTV), "10 on Top" (MTV), "One Tree Hill" (CW), "Texas Women" (CMT) and in the upcoming feature film, "LA, I Hate You" starring Malcolm McDowell and William Forsythe.
"Alexx is a passionate and driven person, beyond music, she doesn't rest on her talent she actually puts the work in and in my opinion she is destined for greatness so having her on the show was a definite privilege, music fans need to keep an eye on her career as its on the move" Stated UCW Radio Show Host Louis Velazquez – 2015 
Websites:
www.alexxcalise.net
www.twitter.com/alexxcalise
www.instagram.com/alexxcalise
www.youtube.com/alexxcalisemusic