THE VANESSA RIDDLE STORY WITH CHRIS RIDDLE
VANESSA'S JOURNEY BY CHRIS & CONNIE RIDDLE
In Feb 2009 our then 8 yr. old daughter Vanessa, was diagnosed with Stage 4 (High-Risk) Neuroblastoma, a very rare, aggressive and difficult to treat form of childhood cancer. Fewer than 100 children in the UK are diagnosed with neuroblastoma each year, most of which are below 5 yrs. old and generally have a better prognosis as the older the child is the worse the prognosis is.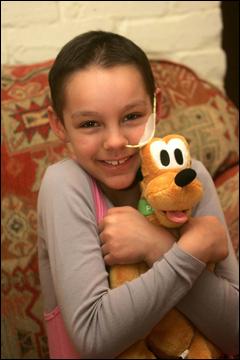 Since Feb 09, Vanessa has undergone many different treatments at Yorkhill Hospital in Glasgow, these include; 12 rounds of High Dose Chemotherapy, two 7 hour surgical operations, removal of one of her kidneys, a stem cell transplant, Radiotherapy, Retinoic Acid treatment and Immunotherapy treatment……all of which was agonising to watch as parents never mind to have to endure as a child!
Having undergone all this difficult and often very painful treatment the fact remained that due to a high relapse rate the long term prognosis for Vanessa's survival remained very poor with less than a 40% survival rate. All the same, Vanessa finished her treatment at Yorkhill Hospital in Aug 2010 and was given the all clear.
In Dec 2011 after routine scans, Connie and I were given the devastating news that Vanessa had relapsed. She has many hotspots on the skull, neck, spine, leg & knees. The UK doctors have told us that this time round there is very little chance of survival; "much less than 10%" they said, as we do not have any relapse protocols in the UK. This is due to the Government not investing any money into relapse treatments for this disease. This is a very different story to the United States & Europe where there are many relapse protocols and taking her there will dramatically increase her chances of long term survival.
We now find ourselves in the position of urgently having to take Vanessa abroad for relapse therapy treatment which the NHS will not fund. The treatment Vanessa requires is likely to involve Antibody Therapy and cost in excess of £500,000. Vanessa's latest scan results will be used to determine which therapy is best.
Please help us to raise the funds in order to save Vanessa's life.
Every single penny counts, no matter how little.
Thank you for reading and donating
Chris & Connie Riddle
Websites: www.twitter.com/vanessariddle ,www.twitter.com/chrisriddle17