THE TOUGHEST NERD IN MMA, KICKBOXER MAUREEN "BABY FACE" RIORDON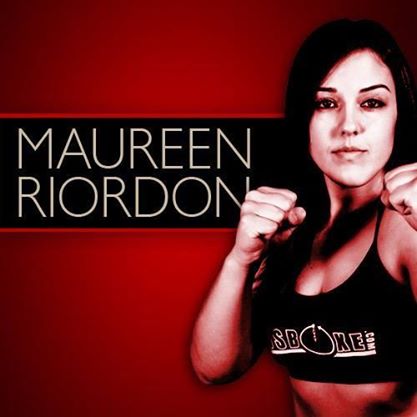 Maureen "Baby Face" Riordon began training in January of 2010 when she joined FusBoxe Mixed Martial Arts and Fitness in Westminster, Colorado. She did not have any athletic experience when she started out, but found herself in her first grappling tournament only three short months later. she became addicted to the sport at once and went on to claim seven gold medals in the next six months, and took both first and second place in nationally ranked tournaments.
After numerous fights falling through for every reason under the sun, her first fight finally came through for her in June of 2011 for Ring of Fire's Muay Thai Mayhem against Allison Lantz.
Since then she has had ten amateur fights in total, ranging across MMA, kickboxing, boxing, and Sanda and she made her professional kickboxing debut May 3rd for Glory Sports Internationa. In March 2014 she signed a multi-fight deal with RFA: Resurrection Fighting Alliance where she will be making her professional MMA debut later this summer!
"Maureen is the toughest nerd in MMA, she brings intelect, courage, skills and a goal to keep giving back to the community, using her mma fame to help bring attention to TEAM BABY FACE. You have to love the dedication in more ways than one. I do see her becoming a true force in the world of female kickboxing and mma so keep an eye on this rising star." – Louis Velazquez – UCW Radio Show Host