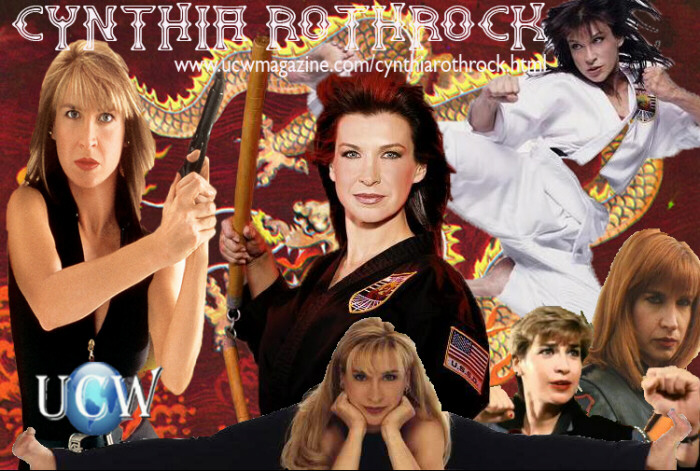 Cynthia Rothrock is one of the greatest martial arts/action film stars in the world, Few other performers can match her presence and energy on the silver screen. She is the undisputed "Queen of Martial Arts films".Cynthia Rothrock is not only a great action star, but also an incredibly accomplished martial artist. She holds 5 Black Belts in various Far Eastern martial disciplines. These Arts include; Tang Soo Do (Korean), Tae Kwon Do (Korean), Eagle Claw (Chinese), Wu Shu (contemporary Chinese), and Northern Shaolin (classical Chinese).
Cynthia Rothrock's movie career "shooting schedule" has taken her to some of the most exotic locations on the planet. Paradoxically, she has also endured some of the worse climatic conditions that anyone in the moton picture could ever anticipate – all in the name of making "action-adventure" motion pictures.
But, Cynthia is quick to point out that the memories and enjoyment of working with some of the top martial arts directors in the business has all been worth it. Namely; outstanding directors like Robert Clouse (Enter the Dragon starring Bruce Lee), Cory Yuen (No Retreat, No Surrender end many more), Samo Hung (Shanghai Express and many more), Guy Norris (Rage and Honor II), Kevin Hooks (Irresistible Force, more), Oley Sassone (Fast Getaway II, more), Paul Maslak (Blonde Justice, more), John Schlesinger (Eye for an Eye, more), Brian Todd (Hostage, more). and Fred Williamson (Night Vision, more).
William Groak, an Editor for Black Belt Magazine, once compiled a dossier that perhaps best sums up Cynthia's action-adventure martial arts film career and work ethic when it comes to the film making process. Simply stated, it reads, "Cynthia Rothrock: The Next Action Hero. SUBJECT: Next Action Film Star. MISSION: Conquer America. STATS: Can Fight, Punch, Maim, Shoot, Kick and Whip 155 Crazed Terrorists with nary a scratch. PROFILE: Sports a Ponytail better than Seagal, Chest Superior to Arnold, Looks Superior to Van Damme and Norris. And, unlike Stallone and Willis, obliterates Bad Guys while perched on Three-Inch Heels."
She has had her celebrated moments in the "spot light" as a film personality that has been a true martial artist from the beginning of her film career. Appearing at Arnold Schwarzenegger's Fitness EXPO '98 brings back fond memories of Arnold actually singing "Happy Birthday" to her on stage before a packed house that drew 75,000 competitors and spectators for a weekend in Columbus, Ohio in 1998. Much of that same notoriety has been experienced at Film Festivals all over the world in addition to countless hundreds and hundreds of karate and kung-fu tournaments she has attended over the past decade. Being honored at the Crystal Awards (comparable to Hollywood's Academy Award "Oscars") had it's finer moments as well. Cynthia was presented with the Lifetime Achievement Award for popularizing martial arts around the world through the film media.
Publicity has followed Cynthia Rothrock through every stage of her illustrious career. She is the "media darling" of virtually every reporter, writer, and martial arts magazine in the world. They know that she draws readers by the thousands to their publication. In fact, her "image" and "career" is perhaps followed more closely (by martial arts enthusiast) than any other "martial arts" actors except Chuck Norris or Jackie Chan.
Websites: www.cynthiarothrock.org