COMEDIAN/ACTRESS/WRITER REBECCA CORRY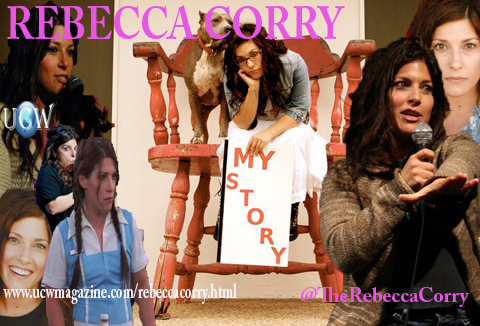 Rebecca has shot pilots for CBS, FOX, ESPN, GSN, OXYGEN and was a guest on LOGOS The Gossip Queens and was the new face of 4 international HERTZ spot playing the GAS alongside Owen Wilson as the voice.
Rebecca says she understood funny, "when I came out of my mother's womb thinking… what is this? Some kind of joke?" She was born and raised in the Seattle suburb of Kent, Washington…or as she likes to call it, "the El Camino-driving, hot dog water loving, one-toothed pregnant teen capital of the world."
Rebecca lived in Chicago for 9 years, where she studied writing, acting and improvisation at The Second City, Annoyance and Center Theater. After an 11-month run in the Chicago production of Tony and Tina's Wedding as the pregnant maid of honor, Corry moved to Los Angeles. Immediately following her arrival she appeared at the HBO workspace in her first one-woman show, "Have You Ever Been Called a Dwarf?", hosted a pilot for the Oxygen Network and was chosen to perform as a "New Face" at the Montreal Comedy Festival.
Shortly after that, she landed a memorable role as Paul Giamatti's receptionist, Astrid Barker, in the feature film "BIG FAT LIAR." She then guest-starred on CBS's "Yes, Dear" and was in a national commercial campaign for Gallo wine. Between performing at clubs like The Improv, The Ice House, The Comedy Store, The Laugh Factory and many more, Rebecca hosted the second season of "Mix It Up."
The interior design show created and executive produced by Courteney Cox Arquette and David Arquette. She went on to guest star on "The King of Queens," "The Bernie Mac Show," "The Wayne Brady Show," NBC's "Late Friday," "Comics Unleashed," E's 101 series," Comedy Central's Premium Blend" and Rules Of Engagement. Her second one woman show "REBECCA CORRY WITH BALLS" was the LA Weekly's "Comedy Pick of the Week." Rebecca beat out thousands to become a finalist on NBC's "Last Comic Standing 4" and currently headlines at universities and clubs around the country. Rebecca's 1/2 hour COMEDY CENTRAL PRESENTS special can be seen on Comedy Central and her first one hour special Thanks, God, is available now on DVD! Currently, Rebecca is commenting on VH1's TOP 100 SEXY SINGERS.
Rebecca's true passions are comedy and animal rescue and she travels the country with her beautiful rescued Pitbull named Angel. If you see them in your town or on your plane…be sure to say hello!
"Rebecca is not only a true entertainer but she uses that star power to do good in the world, her heart is as big as her future and thats pretty big, its always good to know that one person has the ability to invoke some change for the better in the world, this is something that this comedian/actress strives to do and I commend her for it" Stated UCW Radio Show Host Louis Velazquez
Websites: www.rebeccacorry.com
www.twitter.com/therebeccacorry
http://www.youtube.com/user/518rebecca
Check out 2 Manly Ladies at:
www.swirlaroo.com