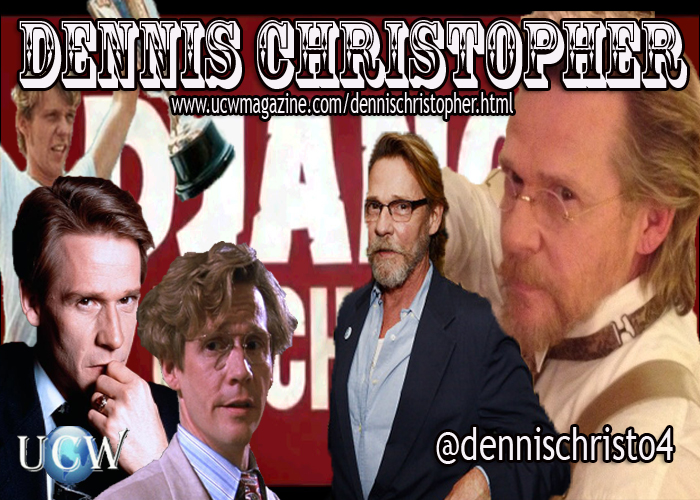 Award-winning actor, Dennis Christopher, stars as Leonide Moguy in Django Unchained, Quentin Tarantino's action epic set in the antebellum American South, about a ruthless bounty hunter and the slave he promises to free upon capturing their quarry. The film, also starring Leonardo DiCaprio, Christoph Waltz, Jamie Foxx, Samuel L. Jackson and Kurt Russell, is set for release on Christmas Day, 2012.

Christopher portrays the lawyer to DiCaprio's Calvin Candie, the owner of a plantation where slaves are forced to fight one another. Into this world enters bounty hunter Dr. King Schultz (Waltz) and his slave Django (Foxx), whose ultimate goal is to find and free his still enslaved wife.

Throughout his career, Christopher has had the good fortune of working with many a legendary film director. In addition to Tarantino, Christopher has worked with Federico Fellini (Roma), Robert Altman (3 Women and A Wedding), Hugh Hudson (Academy Award winning Best Picture, Chariots of Fire), Peter Werner (Don't Cry, It's Only Thunder) and Randall Kleiser (It's My Party).

He is perhaps best remembered for his role in Breaking Away, as the idealistic cyclist Dave Stoller, a working class boy who fantasizes about being an Italian bike racer, and looks forward to the day when an international race will bring excitement to his boring hometown. The film, also starring Dennis Quaid, Daniel Stern and Paul Dooley, was the sleeper hit of 1979. His performance earned him a Golden Globe Award, a British Academy of Film and Television Award (BAFTA) and a Youth in Film Award. His other motion picture credits include Trapped, Mind Lies, Circuitry Man and Circuitry Man II, A Sinful Life and Jake Speed, among others.

Aside from Django Unchained, Christopher is no stranger to period dramas, having been featured in the final season of HBO's Deadwood, a re-working of the traditional Western. His othertelevision series credits include starring as Jack of all Trades in Profiler and recurring roles in Roswell and Kate Brasher. He has guest starred in series such as Six Feet Under, Law & Order: Criminal Intent, Crossing Jordan, among others. Mini-series and other long form credits include Stephen King's It,Golden Dreams: The Ballad of Lucy Whipple, Natural Enemies, Curaçao and Willing to Kill: The Texas Cheerleader Story.

Christopher starred opposite Elizabeth Taylor in the Tony Award-winning Broadway revival of The Little Foxes. His other performances on the New York stage include originating the starring role in Retribution, and in Brothers with Carroll O'Connor.
His stage accolades include both the L.A. Drama Critics Award for Lead Performance, Drama-Logue Award for Best Actor and L.A. Weekly Award for his portrayal of WWII code breaker Alan Turing in the West Coast premiere of Breaking the Code. He received two other Drama-Logue Awards for his performances in Balm in Gilead and American Buffalo.

He has also starred in the Pasadena Playhouse's production of Side Man and, more recently, the Unknown Theatre's production of Grand Motel. Additional Off-Broadway and regional credits include Elegies: For Angels, Punks and Raging Queens, The Slab Boys, A Pound on Demand, Summer and Smoke, Butterflies Are Free, and he originated the title role in Yentl: the Yeshiva Boy.
"Dennis Christopher is not only a gem in the world of Hollywood but he is also as humble as they come, it was an honor and pleasure to have the opportunity to have him on the UCW Radio Show just prior to the theatrical release of the Golden Globe nominated film "Django Unchained" director by another Hollywood great in Quentin Tarantino, I do look forward to having him on again as his career seems to get brighter every year," stated Louis Velazquez, host of the UCW Radio Show.
Websites: www.twitter.com/dennischristo04