PROFESSIONAL PHOTOGRAPHER/FILM DIRECTOR KELSEY MCNEAL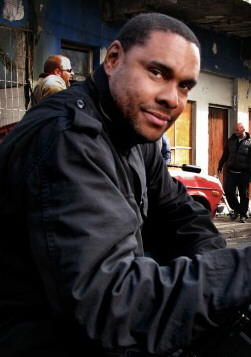 Kelsey McNeal has been involved in photography since the age of 6 due to his fathers influence. He has definitely come along way since snapping shots as a young kid. Although he has had great success in the world of photography he did not make a decision to lean on his past accomplishments, Kelsey is reaching for higher ground by interchanging his photo camera for a film camera, as he gets set to film his first film "PURE."
Kelsey always had a knack for taking good pictures, whether it was at family functions or just on his travels, he is a consummate artist at heart, bundle that with creative, the desire for knowledge and a drive , well you had the recipe for success.
His creative vision allowed him to see stories in a photo, so knowing this he made it a point to envision the story in every picture he took.
After graduating from college, Kelsey quickly began work in the television and film industry. In 1993 he had the ability to join the Cinematographers Union thus taking him one step closer to his true calling, even though he didn't know it yet.
He had the privilege to work on several film and television projects such as "How Stella Got Her Groove Back", "Heat", "L.A. Confidential", "Wonderboys", "Set It Off", "Gone In 60 Seconds", "The Other Sister", "Bandits", "Life As a House", "V.I.P", "Boston Public", "The District", "24", "So You Think You Can Dance", "American Idol", "Dancing With The Stars", and the list goes on.
He has worked with major television networks such as ABC, NBC, Fox Television Network and Lifetime.
While working with many distinguished Directors of Photography, Kelsey learned how to capture the beauty of a person, or the significance of a moment, and create art through the use of camera angles, lighting, location, wardrobe, and mood.
Through it all, photography remained his true passion and in 2002 he made his passion a profession. After walking around trying to find himself, he took that walk with a camera in hand, snapping shots all over the world, still not knowing what he wanted to do, but all the while it was right in front of him, Photography.
From celebrities to models, from fashion to editorial, landscapes to still life he has built quite an impressive portfolio. And in every photo he takes, you see the creative, artistic soul that makes Kelsey McNeal.   As Ansel Adams once said, "There are always two people in every picture:  the photographer and the viewer".
"Kelsey is one of the most talented photographers in the United States today, his vision and ability to tell such a story with every photo he takes is a gift that not many photographers or directors for that matter have. The natural progression for a creative soul like Kelsey is motion pictures and we look forward to him becoming one of the greats in Hollywood as his career progresses." said Louis Velazquez, Host of the UCW Radio Show.
To learn more about Kelsey McNeal go to www.kelseymcneal.com