MUSIC RECORDING ARTIST TINA SUGANDH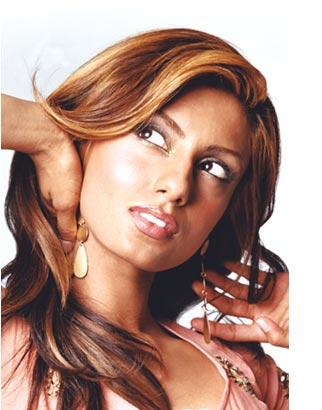 The UCW Radio Host Louis Velazquez had the opportunity to have Tina Sugandh, the first "Bollywood" pop artist to hit the music scene, on the show.
Tina Sugandh is becoming known as "The World's First Bollywood Pop Star". (Glam.com). One listen to the songs on Sugandh's debut album and you'll know you have discovered an artist worthy of such a title. This singer, songwriter, dancer, guitarist, tabla player, and actress has been performing since the age of five with her musical family, The Sugandh Family. She recently had two Billboard Charting Singles, has been on several Hollywood blockbuster soundtracks such as "Around the World in 80 Days, Christmas With the Kranks, Ice Princess, Raise Your Voice, The Clique" and more, was the voice of the theme song "Sisters" for Kelly Ripa's ABC sitcom 'Hope and Faith', had a New York Post feature story about her, and recently sang and played tabla for Ringo Starr's latest album and gave the Beatles percussionist a tabla tutorial which she shares with us on her YouTube site. With recent performances on the CW-11 and at the Astaire Awards with Liza Minnelli and Alan Cumming, and with features in media outlets such as The New York Post, Reuters international and more,  this New Jersey native claims "now that my debut album TablaGirl has just been released, I'm really just getting started!"
The songs on TablaGirl are musical tapestries that bring together the influences of Sugandh's native India: the peaceful ghazals, the hardcore beat-driven sound of bhangra, and the phenomenally popular Bollywood soundtracks. Yet, by applying a contemporary sensibility to these styles, the singer has created a sound that will undoubtedly speak to pop music lovers everywhere, regardless of their cultural origins.
Born in Bombay but raised in New Jersey, Sugandh grew up in a musical family. Her mother Geeta, father Kanaiya, and sister Seema all sang and played instruments, and Kanaiya enchanted audiences with his comedy and mimicry as well. Naturally the family loved to perform together, and shows for friends and family eventually led to the family performing professionally.
It was at their very first professional "Sugandh Family" concert that the 5-year old sang her first song, a highly emotional and intricate ghazal. "I grew up singing in 7 different South Asian languages," says Sugandh. It's amazing to now have the freedom to express all the different musical styles I absorbed while growing up."
The family performed from Tina's childhood through her college years, with one catch. While the weekend was for music, the week was dedicated to work. For Tina's parents that meant their jobs as a professor and marketing executive. For Tina and Seema it was their schoolwork. Sugandh's parents always made sure that the girls knew that the family's passion for music and performance should never overshadow their academics. Eager to succeed at both, Tina balanced a career in music while graduating from Rutgers University, on the Dean's List, with a degree in Biology.
Instrumental in Sugandh's musical education were the magnificent Bollywood soundtracks that are such a significant part of cultural life in India. "People in India get almost all of their music from soundtracks," Sugandh explains. "They don't usually know who the artists are. The films use playback singers, and then the actors lip synch to the music." The singers may have been anonymous but the rhythm of the music made a very distinct impression on Sugandh, who took to playing percussion as eagerly as she had embraced singing. "I surprised my dad by asking him to let me play his dholak onstage when I was about 7 or 8," she says, referring to the popular hand drum used in Indian music. "I had never touched the dholak before that performance, but I somehow played well, and I remember there was thunderous applause! My parents said, 'If you have that kind of natural rhythm, we're going to start you on tabla lessons right away."
So began Sugandh's love affair with the instrument that would come to define her dynamic sound. "Right after I took a few lessons, we incorporated the tabla into our performances," she says. "When mom would sing and I would play, she would get such a sparkle in her eyes onstage. Performing as a family was the most amazing feeling." Having achieved nothing less than rhythmic virtuosity over the years, Sugandh showcases her tabla skills on every track on the album (she is also an accomplished guitarist in her own right). The first single "Break Me" turns the sound of the tabla into a pulsating beat, creating an irresistible call to the dance floor. "Hey you, spicy thing, your masala makes me scream," Sugandh sings playfully.
The songs on TablaGirl, all written or co-written by Sugandh, almost uniformly convey the singer's positive outlook. In the defiant "Jao," the singer admonishes the "girls who spit dirty talk" and the "boys who act so tough." In the slyly insinuating "Bollywood Girl," Sugandh vows to not "act like those girls on those shows" and to not "abandon my morals." "People sometimes think I'm a goody two-shoes," says the singer. "But I'm not in this for the shock value. 'Bollywood Girl' is like an anthem to me; I'm saying that success is not so important to me that I would abandon my morals."
"Once you figure out who you are," she says, "no one can hurt you," – a lesson she hopes to impart to others through her music. "I hope I can help people like themselves. Nobody has all the answers; all we have is the power to do the best we can." On the song "T.here I.s N.o A.lternative" (the title contains an acronym of her name), Sugandh sings metaphorically about shedding her cocoon and learning to fly. The song's Western-style production, spiced up with a hint of Indian flavor, provides the perfect pop accompaniment for Sugandh's exhilarating message.
Immersed in a loving family, it's no surprise that Sugandh also knows her way around a heartfelt love song. The tender "You Without Me" and the yearning "Stay" portray the joy and sadness of various types of love, with Sugandh's sentiments held aloft by alluring melodies that draw listeners into her emotional world. The more playful "Love Junkie" is a trippy dream about the infectiousness of love.
The singer may be an idealist, but she's no pushover. On the full-on rock track "Indestructible," she confronts an emotional adversary, her proclamations of emancipation accentuated by the defiance of an electric guitar. The insistent dance beat in "Patiently Wait" signifies an almost obsessive desire. And in "Prisoner," a slow groove and hypnotic sitar set the scene for a romantic struggle between captive and captor.
Perhaps the most profound track on TablaGirl, and the one that informs every other, is "HisStory" about Mahatma Gandhi. Sugandh sings: "He's the one that made us see, little things are all we need. So, I am happy, I am free, grateful for HisStory." Sugandh says the song is "an appreciation for the lessons that Gandhi taught the world. We need to try to remember his message in the world today."
Weighty stuff, for sure, but as Sugandh contends, TablaGirl is "ultimately a really fun listen." "I'm in a really good place right now," she says. "And this album brings together everything I've learned and everything that's important to me." Sugandh even gathered up the members of her family to sing along with her. "You can hear them on various songs, and at the end of the last track, everyone says 'Namaste'." The Sanskrit word, a common salutation in India, is a way for people to acknowledge and honor the spirit of divinity that dwells within each of us.
"I thought that was the perfect way to end the album," says Sugandh. So do we.
"Tina Sugandh is such a great person, she has all the attributes of being a true star and not a flash in the pan type of recording artist, she is setting herself up for longevity as opposed to instant fame, I personally view her as a pioneer in the music industry as she is the first recording artist on the scene bringing the Indian flare to pop music, she is one to keep a close watch on as her future will only get brighter not just in music but in the entertainment industry as a whole," said Louis Velazquez host of the UCW Radio Show.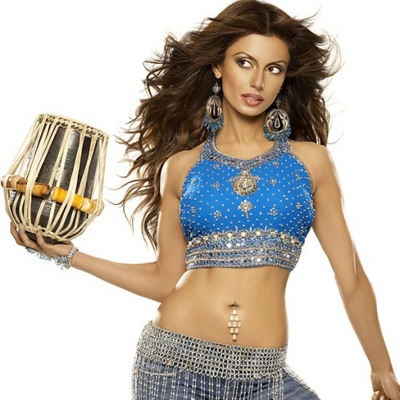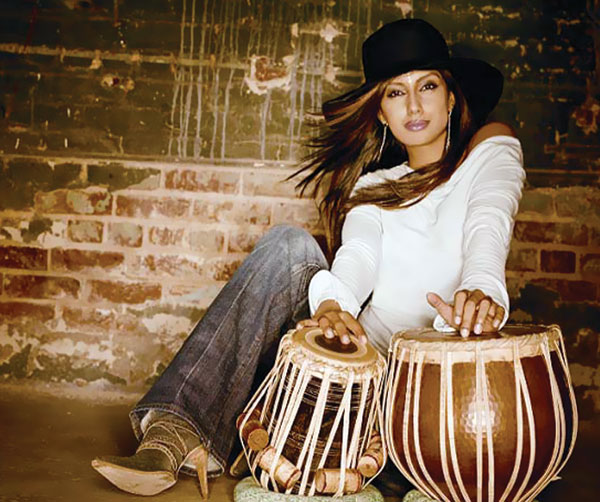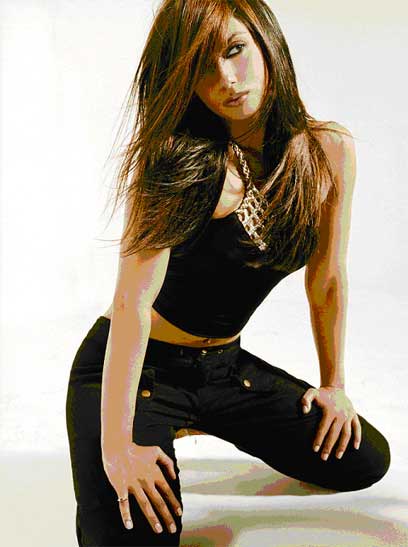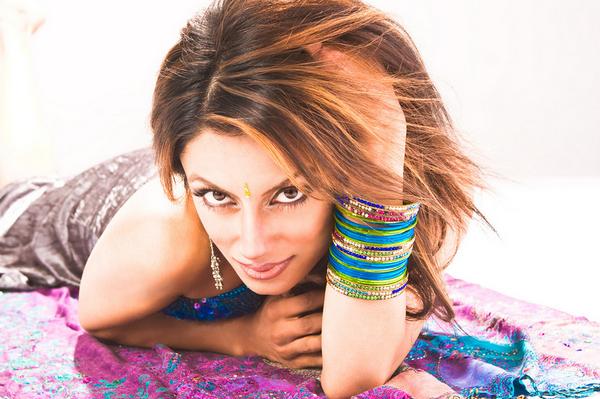 Websites: www.tinasugandh.com
http://www.myspace.com/tinasugandh