KICKBOXING LEGEND OLANDO "THE WARRIOR" RIVERA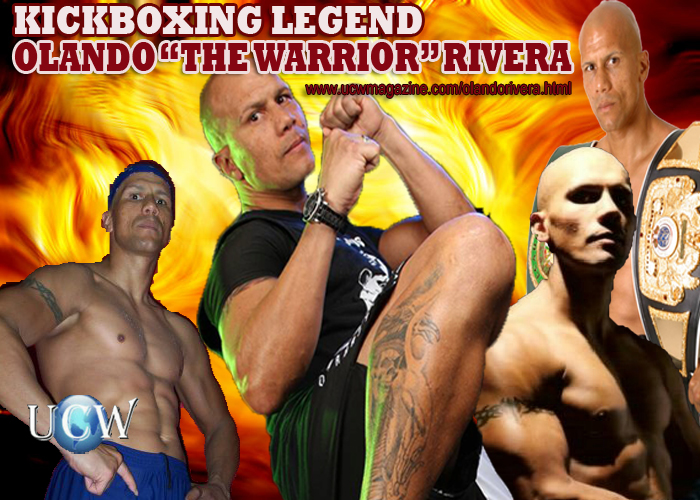 The UCW Radio Host Louis Velazquez had the opportunity to have Kick boxing Legend Olando "The Warrior" Rivera on the Show.
Every so often an athlete comes along who redefines the sport – taking it to an entirely new level. In basketball it's Michael Jordan, in Baseball it's Sammy Sosa, and in Kickboxing it's Olando Rivera.
Nicknamed "The Warrior", Rivera has dominated the world super-light heavyweight class. Today Olando "Warrior" Rivera is the five-time world champion super light heavyweight kickboxer holding titles in the ISKA (International Sports Karate Association), KICK (Karate International Council of Kickboxing), WWKA (Worldwide Karate Association), P.F.K. and WMMA. Rivera unified the division for the first time in kickboxing history.
His extensive professional kickboxing career hosts an impressive record of 32 wins, 3 losses and 1 draw. This record is even more impressive in the fact that two of the only three losses were his first two professional bouts – where, like a true champion, he fought back to maintain a virtually flawless record, winning 29 out of his 30 next fights, with 20 of these victories by knockout.
Olando Rivera began his kickboxing career at the tender age of 9 in Brooklyn, New York where he began training in Tae Kwon Do. However his early career was temporarily derailed when his family could no longer financially support his training. Undaunted, Rivera earned the money himself and at the age of 13 was training once again. Since then, "The Warrior" has never looked back on his way to the top of the kickboxing circuit – and now the boxing – world.
By the age of 35, he was the youngest person ever inducted into the World Karate Union Hall of Fame.  Now with 30 years of martial arts training and 15 years of fitness instruction, Rivera has become a force to be reckoned with all over the world.  Recently, he defeated the light heavyweight champions from both China and Brazil.
Rivera recently expanded his kickboxing success into the professional boxing ring and now holds an equally astounding boxing record of 15-3-2 (8 by KO) He currently holds the Latin American WBC Championship Boxing title, and the IBC America's Title.  Olando intends on being the first Latino to dominate the two sports holding world light heavyweight titles in both kickboxing and boxing.
In addition to fighting, Rivera has been motivating people outside the ring for years as a celebrity personal fitness trainer – training stars of the big screen, music and television.  In New York, where the one-on-one Warrior Training concept originated, Rivera trained Another World's Tom Eplin and Sandra Ferguson.  In addition, he's trained Silver Screen Star Wesley Snipes, R&B sensation Calvin Richardson, and World Champion WCW's Evan Karagias, Former Buccaneer Player Brad Culpepper and several other Athletes as well   He is also a seasoned Kickboxing trainer having instructed over 5000 clients worldwide, kids and adults alike, from as far away as China, Canada and the United States.
Rivera's unique training style and intense sport-training and agility techniques have been featured on ESPN, ABC's Good Day New York, on CNN with Another World's Tom Eplin, Madison Square Garden Network's Martial Arts World, Soap Opera Digest and Soap Opera Weekly, NY Daily News, pay-per view channels, ABC and NBC news and countless others. Rivera's charismas on and off-screen have also been captured in the Latino market via Telemundo Network's Occurio Asi.
Olando Rivera is happily married to Deena Rivera and they reside in Tampa, Florida. Olando Rivera has four children: Victoria, Olando Jr, Anthony and Anjelina. The older kids are both skilled in martial arts and the sport of kickboxing.  When he's not inside the ring, training clients or playing with his children, you can usually find Olando racing motorcycles and cars in what little "spare" time he can garnish. Another passion of Rivera's is his childhood love of gymnastics. Olando and Deena are both advocates for Autism and promoting Autism Awareness since their son Anthony was diagnosed back in 2001.
Rivera is not only the greatest kickboxer in the world, but also one of the most sought after instructors and motivators. He is truly the definition of superstar – in the ring and out.  We hope you will show your continued support as Olando prepares to embark upon a completely new venture with Warrior Classic Kickboxing. Amateur Kickboxing Events Presently Being Held In The Tampa Bay Area.
Websites: www.olandorivera.com
www.warriorclassic.com
Donate to Autism Speaks in the name of Anthony Rivera at www.autismspeaks.org