FOUNDER OF DIMORA MOTORCAR ALFRED DIMORA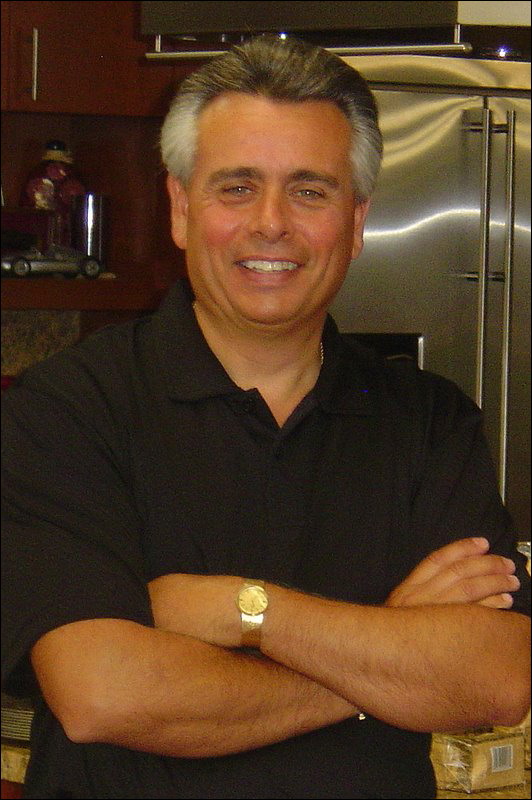 Louis Velazquez had the unique opportunity to conduct an in-depth interview with a Modern Day Tony Stark, an innovator in some many areas, Alfred DiMora's journey is one of the most inspirational that we have had on the show, its a story of coming from nothing and building an empire, the American Dream, Alfred DiMora is a prime example of that dream.
Alfred DiMora is a native of Rochester, New York, Alfred J. DiMora was fascinated by cars from the age of ten. He worked at service stations in his early teens, during which time he rebuilt a burned-out 1939 Buick before he was old enough to drive. Working in a co-op program, he earned his machinist degree and became a certified welder.
In 1976, Mr. DiMora came to Santa Barbara, California to design and build limited-production luxury cars at Clenet Coachworks, as employee number six. Over the next seven years, he took control of Clenet, while also forming Sceptre Motorcar Company. His Sceptre won the Best-of-Show award at the Los Angeles Auto Show in 1978. As owner, CEO, and Chief Automotive Designer at Clenet, he created the Series IV and Series V Clenets. Altogether, over 580 Clenets were produced and sold to celebrities, royalty, and other motor enthusiasts around the world.
President Reagan declared 1986 the Centennial Year of the Gasoline-Powered Automobile. Mr. DiMora's Clenet was selected as the Official Centennial Car. As a result, he and the automobile were honored at the Automotive Hall of Fame in Michigan (pictured at right). Clenets were called "Drive Art" by Automotive Age and the "American Rolls-Royce" by Fortune.
As an entrepreneur and business consultant, Mr. DiMora has advised and built companies in industries as diverse as chemical recycling, public relations management, software development, television infomercial production, and real estate development.
In the mid-1990s, he innovated in chemical recycling, automobile and truck antifreeze production and distribution, and hazardous waste management at PRS, Inc., in Salt Lake City, Utah. He served on the American Society of Testing and Materials Committee as the first non-chemist. During this period, he created and marketed the first ready-to-use 50/50 antifreeze, which quickly went on to be a bestseller.
In 1997, Mr. DiMora founded Star Bridge Systems, Inc. to advance reconfigurable computing technologies. Star Bridge created powerful, high-performance computer platforms and a new software language called Viva, for a new supercomputer platform called hypercomputing. Star Bridge customers include NASA, the U.S. Air Force, and the National Cancer Institute. Mr. DiMora served as Chairman, CEO, and President before leaving the firm to return to California to pursue his first love—motorcars.
Mr. DiMora is a major participant in the development of Voyager, the world's largest Ferris wheel. The first two 600-foot diameter wheels will be built in Las Vegas and Dubai.
Sir Alfred J. DiMora was inducted into the Knights of Malta in 2001. He is a member of the Motor Press Guild and the Society of Automotive Engineers. He lives in Palm Springs, California, with his wife, Yvonne, and stepdaughter, Chanel. His stepson, Josh, is in the U.S. Marine Corps.
Clenet
Clenet is arguably the most beautifully styled automobile series ever built. Each limited-production model was conceived, designed, and produced by a small team of dedicated men and women in Santa Barbara, California in the 1970s and 1980s. The automobile's distinctive 1930s styling and meticulous hand craftsmanship turned heads wherever they went. Clenets boasted the latest in drive train and suspension system technology under a body of steel giving them superior reliability to go with their beauty.
Features such as Italian walnut burl dashboards and etched glass accented by Waterford crystal ashtrays brought many Clenet models under Alfred DiMora's leadership in at over $100,000. In those days, you could buy a nice house for that price tag. That didn't stop an eclectic group of buyers ranging from Farrah Fawcett, Rod Stewart, Ken Norton, and Sylvester Stallone to King Hussein of Jordan.
Mr. DiMora's Clenet was selected as the Official Centennial Car in 1986, the year that President Reagan declared the Centennial Year of the Gasoline-Powered Automobile. This put Alfred DiMora and the Clenet into the Automotive Hall of Fame in Michigan. Clenets were called "Drive Art" byAutomotive Age and the "American Rolls-Royce" by Fortune.
Sceptre 6.6S 1978 Prototype
During the late 1970s, Alfred DiMora and Ray Kinney, two members of the Clenet team, joined Tom McBurnie to form Sceptre Motorcar Company to design and produce a unique luxury sports car. The Sceptre 6.6S was an art deco design with the flavor of the late 1930s classics. This hand-crafted, limited-production, specialty car was reminiscent of such vehicles as Delage, Delahaye, Bugatti, 1935 BMW, Alfa Romeo, 500 XK Mercedes, as well as the 1950s Jaguar. Perhaps the closest car of this style is the Talbot-Lago. Yet the Sceptre is not a replica of any one automobile.
Appointments included hand-rubbed lacquer paint and an interior of Connelly leather and walnut burl that complemented the latest in drive train and suspension technology. The Sceptre won the Best-of-Show award at the Los Angeles Auto Show in 1978. Sceptre Motorcar Company produced 15 of these $39,000 automobiles ($50,000 for the turbocharged version) that emphasized sporty features compared to the luxury of the Clenet series of automobiles. Many of these automobiles were acquired by celebrities and dignitaries. The sixteenth was never completed from the factory but exists uncompleted to this day.
The body of the Sceptre is made of fiberglass applied to a tubular steel frame. Only the doors are made of steel. The engine is a powerful 400-horsepower V8 connected to a three-speed automatic transmission. The Sceptre will go 0-60 in 7.2 seconds. The weight of the entire car is slightly over 3,000 pounds. The Sceptre is known for its high reliability factor. It is said that no other car has been built like the Sceptre with the exception of the Ferrari.
Many articles were written on the Sceptre at its introduction, including: an article by Dennis Adler which appeared in the March 1979 edition of Car Collector, the 1980 edition of Elite Cars, an article by Ted West in the February 1979 edition of Motor Trend, and an article by Jack Kroll in the February 26, 1979 edition of Newsweek, just to name a few.
This section provides a glimpse at the history of Sceptre including never-seen-before artist renderings and prototype assembly photos.
NATALIA SLS 2
The Natalia SLS 2 sport luxury sedan, the world's first $2 million production automobile, will be completely distinctive from bumper to bumper. It will be the world's fastest, most technologically-advanced, and finest four-door sport luxury sedan in transportation history.
The Natalia promises to feature dozens of innovations never seen before in any production automobile. Here are just a few of the planned, advanced features.
DiMora Motorcar V16 Volcano Engine
At the heart of every great motorcar is a great engine. The DiMora Volcano V16 engine will produce 1200 horsepower, yet will offer excellent gas mileage by using variable-cylinder tech nology and an unusually lightweight engine block. The design, casting, and materials will set it apart from all prior engine technology.
Fuel System
The fuel system will use cutting-edge technology that we anticipate will yield a dramatic increase in gas mileage, while boosting performance and decreasing emissions to the point that a catalytic converter should not be needed.
Aerospace Body Construction
The chassis and body will use advanced aerospace materials and construction tech niques to give superior strength at a weight easily 1,500 pounds less than luxury vehi cles its same size. This weight advantage will further improve gas mileage and per formance. The strength will add to the driver's and passengers' safety.
More than 60 Onboard Computer Systems
The Natalia technology will be driven by the most sophisticated computer systems ever used in an automobile. They will be tightly integrated to control the vehicle's perform ance, safety, comfort, communications, and entertainment.
Four-wheel Drive and Four-wheel Steering
The drive train and steering systems will afford superior maneuverability, handling, and safety.
Variable Suspension
The unique suspension system will provide a smoother ride than in any luxury sedan with the performance characteristics of the finest sports cars.
Paint
The Natalia will use revolutionary paint technology. One optional feature of the paint will be to allow the automobile to change from black or blue when it's cool outside to white when it's hot.
Bumpers
The Natalia will be the first production automobile to use a patented new design and mate rial technology for its bumpers. Low speed impacts will result in minimal damage beyond a paint scratch. At higher speeds, the bumper will perform its most important function: minimizing harm to the passengers.
Vision Enhancement
The Natalia will incorporate night vision into the head-up windshield display. Additionally, external cameras throughout the automobile will feed the head-up display to eliminate all blind spots.
Headlights
The headlights will house small video screens and a video projector. These will display any Natalia video stream: movies from the automobile's DVD player, satellite TV broadcasts, live video coming from any of the automobile's cameras, or a professional video about the automobile and our sponsors. Thus, the automobile will be able to tell the viewer about Natalia and our sponsors while parked.
Next-generation Lighting Systems
The Natalia will make use of sophisticated LED and fiber-optic lighting inside and out to give effects normally reserved for Hollywood productions. Among its many uses, light ing will be adjusted through the biofeedback system to help keep the driver alert.
Handicapped-assisting Front Passenger Seat
The front passenger seat will glide forward, rotate 90 degrees, and transport the passenger to the sidewalk or a wheelchair. No other production automobile offers this as a standard feature.
NASA Foam Technology
The interior will feature NASA foam technology combined with a newly-created gel lin ing and newly-created leather. This will provide unparalleled interior comfort.
115v or 230v AC Outlets
Since we all carry many electronic devices, how nice it will be to have normal electric outlets to plug them into. This is the kind of attention to detail that helps make the Natalia unique.
Wireless Personal Computer
There will be a full-function, hand-held Windows personal computer that is 4.9″ x 3.4″ x 0.9″ and weighs 14 ounces. It will have one gigabyte of memory, a 100 gigabyte hard drive, its own keyboard, and a full complement of ports. It will wirelessly connect to an external monitor, full-size keyboard, the Internet, and a portable printer, while in or out of the automobile.
Retractable TV Screens and Bar
The back-seat passengers will enjoy remote-controlled, retractable TV screens and bar. The large-screen TVs will use directed-sound technology so each person can watch different programming without the sound disturbing others without the use of headphones.
Thermally-controlled Cup Holders
Enhanced design blends the cup holders with the luxurious interior while keeping your drinks hot or cold at the touch of a switch. A fiber-optic ring will glow dimly, either red or blue, as it heats or cools the drink.
A Woman's Touch
We will create an elegantly-stated, limited-production purse, a $12,000 value that will be included with each Natalia SLS 2.
Additional Luxury Items
State-of-the-art computerized rear seat massage is guaranteed to relax you.
Italian walnut, hand-inlaid burlwood will give the dash and bar a lustrous feel.
English wool carpeting and lamb's wool mats will enhance the interior.
Lighted Waterford crystal ashtrays will beautify the interior.
Only a demonstration of a Natalia wine bottle can do justice to its amazing, pat ented, self-uncorking system. Suffice it to say, this is the world's only wine bot tle with the corkscrew built in.
HOW TO PURCHASE YOUR VERY OWN NATALIA SLS 2
DiMora Motorcar will have dealerships around the world to sell and service the Natalia SLS 2 sport luxury sedan. As dealerships are announced, they will be listed on our website.
Even before their dealership network is in operation, customers have approached them about securing one of the first automobiles to be produced. To support this demand, DiMora has established a program though which a buyer is guaranteed a specific Natalia SLS 2.
After the prototypes have completed their testing and certification program, the first production Natalia SLS 2 will be Production Sequence Number 001, the second Natalia will be PSN 002, etc. It is possible today to make a deposit that will guarantee that the buyer will receive a specific Natalia, for example, PSN 007 or PSN 111.
If you are interested in securing one of the earliest Natalia's through the DiMora Motorcare program, please go towww.dimoramotorcar.com/contact.html
If you are interested in becoming a DiMora Motorcar dealer, please go to:
http://www.dimoramotorcare.comdealershipopportunity.html
Websites: www.dimoramotorcar.com