ALL AMERICAN EFX NUTRITION FOUNDER BRIAN ANDREWS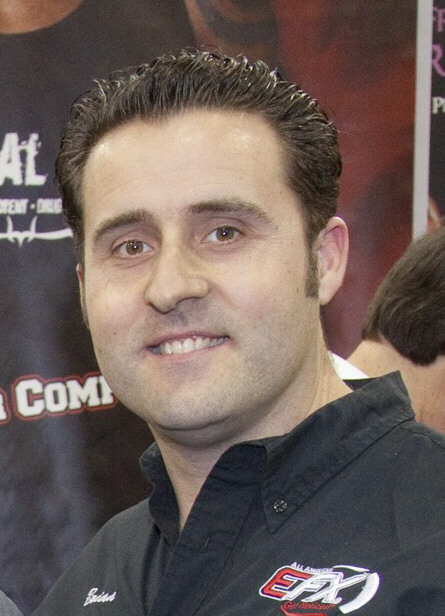 Interview with All American EFX supplement company founder Brian Andrews.
Brian Andrews is the President of All American EFX, one the fastest growing Sport Nutrition Companies in the industry. They are best known for their multi-patented, award-winning creatine product, Kre-Alkalyn® EFX. Brian is the author of "Creatine: Industry Insider Secrets Revealed". He was a featured expert in the book, "The Dangers of Creatinine" and a guest on numerous industry-related radio shows. Brian has been involved with Bodybuilding and Powerlifting for over 22 years. He currently lives in Bakersfield, California, with his wife and their 3 kids.
What Is The "EFX Way"?
Like most people, we spent the early years of our training careers beating our heads against the same proverbial wall as every other athlete looking for the magic "secret". We know the pain and frustration of being skinny, weak, and feeling inferior.
After trying every new supplement and training program we could find, we realized that each athlete (us included) faced the same three problems: 1) Too much B.S.! It's nearly impossible to know where to go or who you can trust for real unbiased information about what works and what doesn't, 2) Not having the genetics or "pharmaceutical" connections it takes to become an elite competitor. 3) Lack of quality products that meet label claims…and actually work!
It continued to get more and more frustrating. Then one day, we decided we'd had enough. That's when we decided to create a company that could help athletes everywhere overcome these three problems listed above: All American EFX.
Our unique approach to business, the principles we follow, combined with our passion for excellence developed into what we now call the "EFX Way'.
Our Passion Became Our Vision
We started in this industry as consumers just like you. That's why we decided to do things differently from day one. You see, we knew the last thing this industry needed was another supplement company pitching an endless array of fancy products with slick labels, pushed by overhyped ads.
Instead we committed ourselves to our vision of creating something for our customers something that truly serves their needs and will ultimately live on past us—our legacy. It's an ongoing, never ending process because there is always room for improvement. But just like building the 'perfect' body, there are few pursuits more fulfilling.
We want to help you get the most out of your body; to find your limits, and then push past them by using cutting-edge supplements… instead of drugs. This way you maximize the benefits while minimizing the side-effects and risks commonly associated with drugs. In the end, we steadfastly and unapologetically believe we offer the very best way to do it.
We're Advocates For The "Bodybuilding Lifestyle" – Or What We Call The "EFX Way"
Why? Because we believe it offers more advantages than almost anything you can do. Not to mention nearly every other exercise discipline has bodybuilding principles, in one way or another, at its core. Unfortunately, bodybuilding has somehow become more and more about "appearance at all costs" than anything else. Seriously, who cares if you look great on the outside, but you're more like a rotten potato on the inside? That's not the bodybuilding we know and love.
We think it's time to redefine what bodybuilding means…to take it back to why most people started doing it in the first place: for improved health, greater self-esteem and improved performance. (Of course, looking great certainly doesn't hurt either!).
Our version of bodybuilding is all about the journey you take while pursuing your version of perfection. It's the sacrifice and the discipline. It's doing what others are simply NOT willing to do or only wish they could. Furthermore, there are thousands of bodybuilders who are just as "hardcore" as any Pro when it comes to the day-in, day-out dedication and full on blood-and-guts training it takes to build a more muscular body.
The fact is, most of these people will never set foot on a competitive stage. Life is their stage. And we say it's about time all these individuals were recognized for their efforts too.
Our Commitment Is To Your Success
We know that real success comes from an ongoing relationship; not just selling you products. Our business philosophy is simple: When you grow and succeed, we grow and succeed. Some companies will tell you what you want to hear to make a sale. Instead, we tell you what you need to hear in order to grow and succeed. And we love building quality products that help make it happen faster and easier for you.
The "get big quick" merchants have failed you. They play games with your self-esteem. Fly-by-night companies take your money and don't deliver. Others just flat-out insult your intelligence.
That's why we take pride in the fact that we're straight shooters. There aren't any tricks in what we do; it's just good old-fashioned principles at work. And if some see our "straight-up, no-nonsense" approach as a gimmick, so be it. We can't please everybody.
It can take years to win a customer…but only seconds to lose one. That's why we believe the best way to let you know we truly uphold our values — the very values in which you invest your trust — is to open our doors and let you confirm it for yourself so you can hold us accountable.
We Don't Play Games… We Just Help You Win Them
We love what we do, and we have fun doing it. We try not to take ourselves too seriously here at All American EFX. But we are dead serious when it comes to helping people build real, drug-free muscle. We always have been, and will always be, committed to doing whatever benefits our customers the most. We're here to give you the tools, information and inspiration you need to reach your goals.
As we lead the Sports Nutrition Industry into a new era of innovation, information and integrity, our Mission, combined with the needs of our customers, will determine our path. Our values will be our guide. Ultimately, we want to build the company we wished was around when we first got started.
Websites: www.aaefx.com