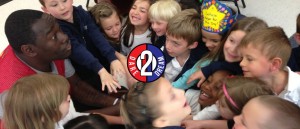 Born Harold Williams to parents Harold and Rita Gethers, Lefty grew up in Jersey City, New Jersey. Raised with 7 other brothers and sisters, Lefty learned early that if he wanted something it wasn't going to come easily; there would be many days of sacrifice and hard work. It was also early in his life that there sprouted two loves in Lefty: his love for basketball and his love for the Lord. These loves taught him early that in order to get what was divinely meant for him, he had to be obedient and follow God's will. It has been obedience to God and the favor of God over his life that has carried Lefty. Lefty credits who he is today to the many growing pains he has faced in life.
From his younger brother's fight with seizures resulting in a coma, to his mother's triumph over ovarian cancer, to his wife's fight for her life after a miscarriage, Lefty has learned the importance of holding on to the promises of God. Accomplishing much in his basketball career such as scoring of his 1000 points and 985 rebounds in high school in only three years of varsity basketball, earning defensive player of the year twice during college, and signing a professional contract after attending a Division 3 school (which many deemed impossible); Lefty proclaims one of his defining moments was being asked to join the World Famous Harlem Globetrotters! He made Globetrotter history by becoming the first left handed showman to sign with the team. After his departure from the Globetrotters, ESPN, the world's largest sports network, called his trade "from the losingest team of all time to the winningest team of all time… a deal straight out of Ripleys Believe it or Not" The article by Tom Friend, gave the world a glimpse of the story about the man that is Harold "Lefty" Williams.
Off the basketball court, Lefty found great inspiration from his maternal grandfather Thomas Williams. Because of his grandfather, Lefty has tried to live his life in such a way that it would be motivational to all who crossed his path. His desire to live such a life started with his experiences as a peer educator in his home town of Jersey City, NJ. and has transcended itself in his role as a husband and father. Lefty has often said that Shyneefa, his wife and childhood friend, is one of the reasons that he is who he is today. She has shared in both his failures and triumphs, walking along side him through it all. Through her, God has gifted Lefty his daughter, Kiara and his son, Elisha; both whom Lefty calls shinning stars in his life. It is his family, that Lefty often says is the reason he does what he continues to do. His desires to motivate are also visible from his travels to 24 countries around the world as a professional basketball player, in his music, as a motivational speaker as well as in his current position as a youth pastor.
HARLEM GLOBETROTTERS
Working hard to be successful is something Lefty continues to strive for. When asked how did you get to be so successful he answered, "When preparation meets opportunity that equals success. You can't take no for an answer. If I stopped working hard every time someone said no to me or when a door closed in my face I never would have made it. We must remember A Delay is Not a Denial"
The game of basketball has opened up many windows of opportunity for Lefty. From television to radio to printed media, Lefty is no stranger to headlines. He has twice been featured in Black Athlete the Magazine as well as in ESPN, the world's largest sports network. Whether speaking on local radio stations or interviewing for television shows to be aired around the world, Lefty knows the power of one's words. Using his words to educate, motivate and uplift, Lefty uses his experience with the Globetrotters, as well as other professional teams, as a platform to reach the masses.
Lefty continues to travel North America speaking on the topics that are most prominent in the area of which he is visiting. These topics range from alcohol & substance abuse, bullying, abstinence & pregnancy prevention to goal setting, time management, healthy living and so much more! In his travels, Lefty exhibits and teaches outstanding ball handling trick techniques and various ball handling drills. One of the things he enjoys most is his Dare 2 Dream Basketball Camp, which teaches kids based on his 6 point programatic thrust. These points are: mind, body soul, education, accountability/determination and enthusiasim. Henry Ford once said "Coming together is the beginning. Keeping together is progress. Working together is success." This is what Lefty holds at the core of everything he does with the youth!
Lefty enjoyed his 7 year professional career, which included his time as a Harlem Globetrotter, and still considers his self an Ambassador of good will.
Websites:
www.leftywilliams.org
http://www.harlemdreams.net/
www.twitter.com/leftywilliams42
www.facebook.com/leftywilliams42
www.instagram.com/leftywilliams42
https://itunes.apple.com/us/artist/harold-lefty-williams/id514597131