NATIONAL FIGURE COMPETITOR/FITNESS MODEL ALLISON MOYER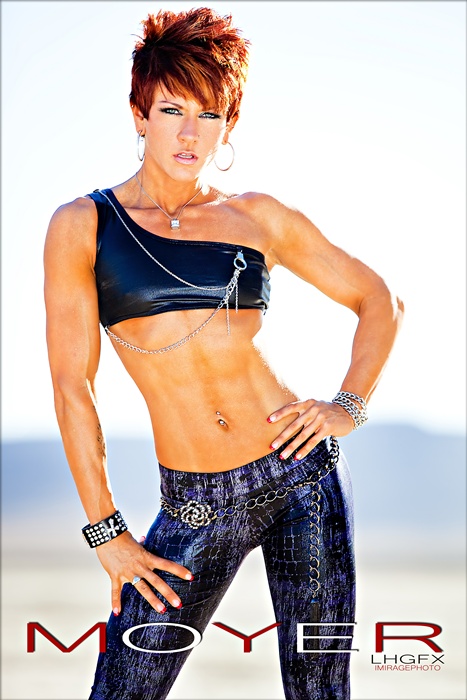 Allison Moyer is an NPC National level figure athlete, fitness, model, personal trainer, and nutritional consultant. Born and raised in rural Pennsylvania, Allison learned at an early age the importance of hard work, dedication, and commitment to one's goals. She was raised in a very active and health conscious family and growing up was encouraged to participate in a variety of sports, including softball, soccer, field hockey, track and field, and cross country.
Once Alli entered her college years, her focus shifted and she began to focus on her love of weight lifting and nutrition. At the young age of 19 she embarked on her first contest diet and by the age of 23 she had not only competed in her first show, but qualified for national status as well.
To date, Alli has graced the national figure stage 4 times and continues to challenge herself both in and out of the industry.  With a successful competitive and modeling career underneath her belt, Alli is now seeking to reach out to others with her belief in healthy, positive, and balanced living.
Alli practices what she preaches and lives a healthy lifestyle to the fullest every single day. "I understand the importance of inspiring others, and helping them to feel the same empowerment and confidence through healthy living that I am blessed to receive every single day."
Unfortunately, in the sport of figure and fitness, many times simply winning a show or having a good physique is credential enough to warrant the term "trainer' or "coach". Allison's approach to program design and implementation is based on client engagement, not client compliance. Building a plan to FIT with YOU is Allison's primary goal. Successful, balanced, healthy living is about making dedicated lifestyle changes- look no further then Alli for the motivation to succeed!.
FUN FACTS
Full Name: Allison Moyer
Nickname: Alli
Occupation: Owner- Alli-Fitness Systems LLC; Nationally ranked NPC Figure Athlete; Professional Fitness Model
Date of Birth: April 22 1984
Years Competing: 5
Height: 5'6″1/2
Weight: 135-140 off season, 125-130 pre contest
Favorite Body Part to Train: Shoulders
Favorite clean food: I love eating clean, and do so both on and off season! I love whole rolled oats,egg whites,sweet potato, salmon, organic ground buffalo, quinoa, raw unsalted almonds, walnuts, and cashews, and Ezekiel English Muffins.
Lifestyle Philosophy: " Life is about the choices we make, and consequently, the choices we choose not to make. Taking charge of your health and fitness is achoice- something you need to prioritize in order to get the results you want. I have a very "holistic" approach to the manner in which I handle my clients- I believe that coaching needs to encompass not only the physical, but the mental and emotional as well. I strive to not just give my clients a "diet" but to help rearrange the ways that they think about exercise and nutrition and provide them with the tools to make positive changes to their behaviors."
QUALIFICATIONS
Bachelor's Degree: Wellness and Sport Science
Minor in Athletic Coaching
ACE Personal Trainer
ISSA Sport Nutrition Consultant
Cert. Aerobics Instructor
Nationally ranked NPC Figure Athlete
Professional Fitness model