IFBB FIGURE PRO FELICIA ROMERO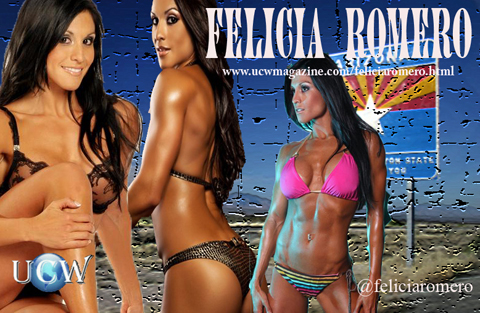 Felicia Romero is an IFBB Figure Pro and Sponsored Athlete. She is a native of Arizona, born and raised there, growing playing sports and has always been involved with health and fitness. Felicia ran track and played volleyball and softball in High School and College, her family is extremely athletic so it was only natural for her to excel in sports.
She graduated from ASU in 2004 with a B.A. degree in Political Science and aspirations for law school. But during her years in college she became a certified personal trainer and opened up her first personal training studio in Mesa, AZ.
Felicia first became a trainer to help get her through college financially, but as the business flourished it became a big part of her life. She says that she has always loved fitness but when she helped change the bodies and lives of so many women, she knew that was really where she wanted to focus her attention.
"I entered my first figure competition in 2005 and I loved everything about it. I loved the lifestyle; I loved the mental toughness that I had gained as well as the ability to really transform my body with diet and exercise. From there, I competed in three more competitions and the last being my first national pro show in 2006 in Las Vegas. I took first place in my class and turned pro. I couldn't believe that I had turned pro at my very first national show. That moment was truly a great moment in my life because I wasn't expecting that at all. I didn't set out to turn pro… I just really loved competing. Although getting my pro card was definitely icing on the cake." said Felicia.
Her life has been in constant positive change since turning pro.
She has won FIVE pro shows, the most recent being the 2011 California Pro.
Top 4 in the 2011 Figure International, top 5 Figure International 2009 and 2010
Top 5 in the world at the 2010 Ms. Figure Olympia.
Felicia has been featured in such publications as Muscle and Fitness, Muscle and Fitness Hers, Oxygen and Flex Magazines.
In 2008 Felicia landed two magazine covers….one for Muscle and Fitness hers and one for the Flex swimsuit issue and her 3rd cover in 2009 for Flex magazine's annual swimsuit issue. One of the highlights to date has been gracing the cover of Oxygen magazine in April 2012 and Status Fitness magazine.
"Currently, my business partner Whitney Jones and I have opened up AZ Pro Physiques in Gilbert, Arizona. It is a 6000 sq ft studio where we do one on one training as well as group personal training. We have 18 trainers that work for us and have helped hundreds of men and women lose weight and keep it off!! " said Felicia.
"Felicia is a definite example of not taking no for an answer and believing in yourself, her Mom has been her biggest fan and she showed her daughter that life is what you make of it. She has made her own path in her fitness career and academic activities and now she is prepared to take on new challenges whether it be in modeling, fitness or even the world of Hollywood. I have no doubt that she will accomplish whatever she sets her mind to, just look at what she has done to date, the future is very bright for this champion," stated UCW Radio Show host Louis Velazquez
Websites:
www.facebook.com/FeliciaRomeroOnline