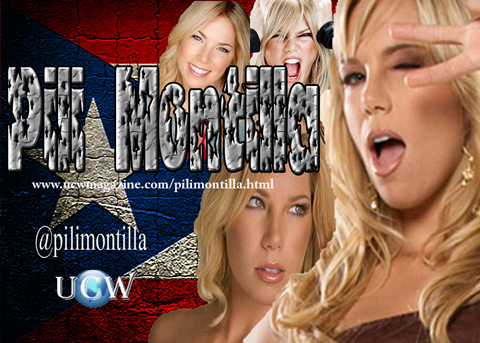 Without a doubt, Pili Montilla is the new latina. She represents biculturalism & bilingualism in a smart, approachable, energetic way. Her strengths include her interviewing skills, power to entertain in front of a live audience, unique personality and her music, fashion and entertainment knowledge. These strengths have led her to interview the biggest music and movie artists in the world. Actress and host, Pili has incredible presence and a charming personality. Born in San Juan, Puerto Rico Pili has shown a great interest in the arts from a very early age. With a B.A. in Dramatic Arts from Boston College and performing art studies from Oxford University, University of London, M& M Studios in Mexico City, Cay Michael Patten Studios in New York City and Puerto Rico, Pili has the discipline, the personality and most importantly the desire to rise to the top.
For over two years Pili was the host of LATV's entertainment show, En la Zona. Pili was also the host of LATV's famous show LATV En Concierto where she interviewed an invited artist (Julieta Venegas, Cristian Castro, Luis Fonsi, are a few examples) for a half hour in front of a live audience. Pili has had the chance to travel and cover important events such as Festival de la Calle 8 in Miami, Los Premios Billboard, Latin Alternative Music Conference (LAMC) and the Latin Grammys. She also covers red carpets and junkets for important films like 'Valentine's Day' (Ashton Kutcher), 'Edge of Darkness' (Mel Gibson) & 'The Blind Side' (Sandra Bullock), among many other films and artists. Pili helped create www.sonidolounge.com where she hosted and produced this half hour broadband music show. Before moving to Los Angeles, Pili was seen daily as the main VJ for MTV PR for two years. It was here where she hosted various segments and programs: Fashion & Beauty Tips, MTV PR News, Top Ten Countdown, interviews, voiceovers and the movie segment Flick'd. Pili was responsible for the research, writing and memorizing the content of these segments. She was also called upon to host different specials, such as MTV 2's $2 Bill Concert in the Bronx, New York, MTV PR's My Barrio and the Green Carpet at Los Premios MTV in Mexico City. Her ability to make artists and celebrities feel comfortable has earned her the opportunity to interview some of the hottest Latin and international artists including Ricky Martin, Gwen Steffani, Daddy Yankee, Hillary Duff, Calle 13, Shakira and Nelly Furtado among others.
Formally trained as a dancer and actress, Pili has appeared in numerous entertainment venues. Some of her projects have included a recurring role as the villain Nancy in the soap opera Duena y Senora and Telemundo's Decisiones. She has also participated in various theater productions as well as musicals. She  received great critic reviews for her performance as Judy in the musical A Chorus Line. Her role as Isabel on the soap Don Amor for Canal 13-Chile caused great commotion and quickly grabbed the attention of the press. Pili is also a radio personality. In fact she is the only female voice of one of Puerto Rico's most popular radio station, Toca de To 102.5 where she has been hosting the '20 Online' radio show for four years. Her presence has raised the show's ratings making it #1 in it's category.
Currently, Pili works for the new Direct TV channel 'Video Exitos' where she host their daily show 'Top DS' and gets to interview the biggest names in Latin music. She is also the Hollywood correspondent for VMe TV's movie show, 'En Pantalla.'  Her fame has extended to Honduras where she is the spokesperson for the #1 local beer, SAB Miller's Barena. Her relationship with the brand extends to hosting their biggest events, interviewing and filming segments and commercials for the brand. This experience lead her to work for E! Latino and their show 'It's Hot!' Her experience as an entertainment reporter and actor has helped her expand her brand to Mexico where she was approached by the editor of  the fastest growing newspaper in the world, 'Publimetro' to write a weekly column titled 'Pili. . .desde Hollywood'. It has been an enormous success and it is now published in Monterrey and Mexico City.
Pili's poise in front of the camera has also led to various hosting gigs for different clients such as 5 Gum, AXE, Sunsilk, Burger King, Fiji Water among others. However, Pili also expresses concern for the youth and society in general. Thus, she's participated as spokesperson for the National Heart Day, John Dewey College Campaign coaching high school kids to pursue a college degree and Si Bebes, No Guies campaign promoting young men and women not to drink and drive. She is also a spokesperson for 'Voces' a non-profit organization that helps the public education system in Puerto Rico by rebuilding school structures, giving monetary incentive to teachers & motivating students.  She is fully bilingual in both Spanish and English and currently resides in Los Angeles, CA.