MARTIAL ARTIST / ACTION FILM ACTRESS SUZZANA STEFANKOVICOVA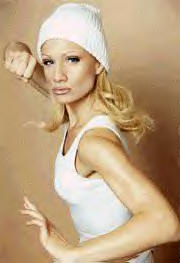 Interview with Martial Arts Action Star Suzzana Stefankovicova interviewed by Louis Velazquez
I want to take this opportunity to thank Suzzana once again for granting me this interview. She is one of the most genuine and sweet hearted people in martial arts and Hollywood for that matter. I am proud to know her and be able to tell her story to the young martial artist worldwide that have supported Karate Kidz Online and Suzzana in our endeavors. She has been and always will be an inspiration to me and I know that she has had that effect on many young martial artist and action stars around the globe.

December 2002 Interview
LV: HOW DID YOU GET STARTED IN MARTIAL ARTS
SS: I started when I was ten. My father decided to take me and my sister to dojo  after a group of older boys from the street we lived in, have beaten us up .
The moment I stepped in , I knew that the atmosphere there wouldn't let me leave so easily. I was amazed and fascinated by all those weird movement our master would teach us . It was fun for me, though my sister hated all that running around the dojo and as she confessed later on, while torturing herself by stretching her legs, she's been actually observing the details of the fabrics her tracksuit were made of . My sister quit to do dancing and i went on with karate.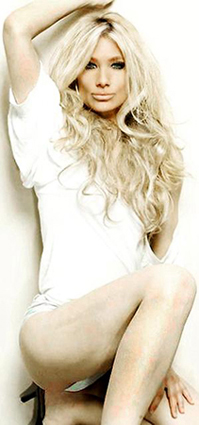 LV: HOW MANY YEARS HAVE YOU BEEN TRAINING AND WHO WAS YOUR MAIN INSPIRATION?
SS: It was in 1985 when I started martial arts. At that time ,for most of the people in my country, the notion of martial arts was something new or even unknown .There haven't been many martial artist in Eastern Europe at that time.
Because the doors to the Western world have been closed to most of the eastern European countries , there were just few masters coming to our country from Asia to teach their culture and mainly martial arts. Because there was no chance
for us to travel abroad at that time, it was very hard if not almost impossible to see any foreign movies in our theatres. There have been just few action movies we got a chance to see with Jean Claude van Damme in the late 80´s, but
that was about it. We never got to see Jackie Chan or Jet Li movies. People would talk about Bruce Lee in the dojo, but that's as far as it went. However, when I look back and think about movies with van Damme I have to say I was impressed. Even though I didn't have a chance to see many action stars I must confess that I really liked his style. I was impressed by his flexibility ,high kicks and very clear technique , thought it was really amazing . So… yes, I can say that he was my main inspiration at the very beginning.
LV: MARTIAL ARTS HAVE BECOME A PART OF OF YOUR LIFESTYLE, DO YOU PLAN ON  INCREASING YOUR KNOWLEDGE OR ARE YOU CONTENT?

SS: Oh yeah! I`m just little bit afraid that one life would not be enough to learn everything I`m planning to! There are still so many things to learn! I would love to learn more and more styles of martial arts, get deeper into psychology
and philosophy and to start writing more articles of this kind. To motivate people and encourage them to step out on their life journey in a direction they consider to be right and also not to be afraid to make their dreams come true. So let's go! Gooo! Me myself am only at the very beginning of my journey ,in a constant process of learning, exploring and I hope constant growth too. I know this process will take throughout my whole existence. But I`m happy because
with each and every day I`m learning something new and with each day I grow and I don't know where the limits for this growth are. It's amazing feeling and I'm having a fun!
LV: DO YOU HAVE ANY MOVIES OR TELEVISION APPEARANCES ON THE HORIZON?
SS: At this moment I`m probably gonna disappoint most of my fans. I`m taking a little break  from action stuff , which means movies and TV works with martial arts included. Well…I didn`t really plan this break, but unfortunately my health condition is very weaken and doesn´t allow me to work . Hopefully It`s gonna take only a little time but I promise to my fans that all this waiting will be worth it! Meanwhile they can see me in some magazines here in US and in Europe. I however don´t drop out working on films or TV projects , but as already mentioned , my health problems don´t allow me to fully work at the moment .I will definitely keep you updated ,indeed. I would love to thank to all of my fans for their support and love!
LV: HOW DO YOU FEEL ABOUT HOW MARTIAL ARTS BECOMING A MAIN STREAM IN TODAY'S  SOCIETY?
SS: Martial arts is a life style and it has a strong spiritual background . It can teach and help us to choose our life journey , to step out in a direction that we consider thanks to these spiritual influences to be the right one for us. It can teach us to find important values in our lives , give us vital life energy, positive thinking, vitality, discipline, self-awareness and awareness of our needs. I also believe it does miracles to our body and mind when they´re weaken and suffer from lack of energy .
What more can i add ???
I´ m really happy that more and more people are discovering the beauty and the power of martial arts and I´m honesty grateful that i can be a part of this all. I must have been blessed to be aware of all that great things martial arts are bringing to our lives.
LV: DO YOU THINK WE WILL SEE MORE MARTIAL ARTS STARS EXPLODING ON THE SCENE OR  IS THIS JUST A TREND?
SS: Definitely! It`s very hard to talk about "trend" especially when we talk about  martial arts movies. There have always been martial arts movies and it`s stars, when we look back in the past. Look at that awesome old Hong Kong movies! Maybe hey haven`t been so popular and known on American continent, but I am pretty sure they have been stars in Asia. The fact that Hollywood have opened its doors to action world is truth. The Hong Kong movie stars such as Jackie Chan, Jet Li, Chow Yun-Fat,Russel wong…became stars of Hollywood and this new wave of oriental action movie stars coming here did start a new era of Hollywood action movies…..that might be , as i believe, also due to the cult movie Crouching Tiger , Hidden Dragon . However, now I´m pretty sure, there are many "  action stars" rising in Hollywood. I can name so many gifted and talented  colleagues – actors and martial artist – like TJ Storm and many many more…well, I would need much more place to mention all of them.. And let me say that there will be no mistake much more in the near future!
LV: TELL US ABOUT YOUR HOLLYWOOD EXPERIENCE
SS: Well, first I would like to say that there´s no difference between hollywood experience or any other. On our way to reach every great thing or success, there will always be barriers and there will also be some very nice experiences. I think that everything that is going on around us makes sense and  has a meaning. It is up to us if it can be useful for us, what can we make out of it. I chose to fulfill my dream in Hollywood. No life journey is easy. And so is not the one I chose. But I´m happy because by breaking all barriers that are crossing my way I´m becoming stronger and little wiser. Thank to them, I always move a step further. So I´m here!
But however it would be too simple to talk about glint and tinsel of this journey. In reality, however we have to face many problems. Obviously there are also beautiful feelings from being successful on my way. That is one of the reason why to follow our dreams! Hollywood is one big dream, and in dreams everything´s possible, indeed. You can become a star from one day to the next, but you can also fall to the ground and begin from the very beginning. They can find you there, but you have to be very careful not to get consumed by it all.
LV: DO YOU MIND IF WE GET A LITTLE PERSONAL? , I AM SURE THAT YOUR FANS ARE CURIOUS ON HOW YOUR PERSONAL LIFE IS GOING. HOW ARE YOU DOING IN GENERAL, YOUR  FAMILY ,YOUR CAREER?
SS: I´m doing fine, thank you , although my body doesn´t always agree with that. I just got back from Los Angeles to Europe for a period of some 2-3 months, while  I have to undergo my medical treatment to get better soon. This period of time  I´d love to dedicate to gaining a vital energy my body needs to heal itself , to meditation , writing and spending my time with my family, friends and my fans. I´ll spend it with my loving family who are helping me as much as they can by their endless support and love . After this period of time I will definitely come back to LA for longer time . At the present time, here in Europe, I´m about to do a couple of interviews following weeks so I will not stop working here in Europe as well.
LV: WHAT ARE YOUR FEELINGS ON YOUNG MARTIAL ARTIST TODAY?
SS: Truly, most of time I do spend with my colleagues and unfortunately i don´t have many chances to meet with young martial artists. As mentioned earlier, only recently i´ve started writing articles , that should be a challenge and motivation mainly for young martial artists .I do believe in their strength and spirit and wish them lots of dreams and courage!
LV: AND LASTLY, DO YOU HAVE ANY ADVICE FOR THE MARTIAL ARTIST READING THIS  INTERVIEW?
SS: Dream, desire, wish ! And believe that your dreams can be fulfilled. Never stop believing in yourself, your dreams and direction you choose ! Start to change your barriers into a springboards to your dreams . Please stay  yourself , don´t let success or failure to change you. I used to say to my friends in Hollywood : "Don´t let this place to change you .Be yourself , stay the same lovely human being , no matter whether you ´re a star or not. " . After all, there are so many shining little stars we meet everyday and don´t even know about them. And last , but not least ….. Don´ t forget that a good  attitude toward life is the key to being beautiful . So smile, as soon as you wake up. Nothing makes one more beautiful and sexy . Don´t take yourself too seriously, have fun ! Life ´s too short for negative emotions.
I believe in you,
With all my love,
Suzzana
This was a very insightful interview by a wonderful person, I know that when I say this I am talking for millions of people that we look forward to seeing her back in action and on the big screen continuing to inspire people into accomplishing great things in their lives. Thank you again Suzzana you are great.
Keep updated with Suzzana and her upcoming events and movies by logging into www.suzzana.com,
You can hear her interview with KKO Founder Louis Velazquez on www.ucwradio.com