DIY MEGA DENS HOST ANITRA MECADON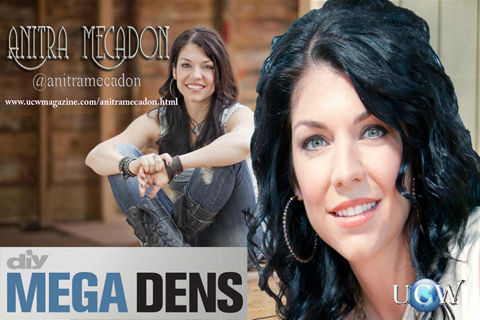 Highly charismatic, on the cutting edge and not afraid to get her hands dirty, Anitra Mecadon has designed some of the most well-known, hip, and edgy restaurants, residences, boutiques, galleries, and other spaces in Atlanta for the past 10 years. With a strong background in art and theater, combined with a degree in interior design, she creates inspiring interiors and exteriors. Whether she's dangling from a scaffold or breaking down a concrete wall, Anitra's rock 'n' roll approach gives her an edge not usually found in most designers. On DIY Network's Mega Dens, Anitra designs and builds the ultimate rec room sanctuaries that exceed any family's wildest imagination. These unbelievable room renovations feature incredible home theaters, innovative gaming areas, clever storage solutions and more.
She had dreams at a young age to be able to grow in the entertainment business doing what she loves to do and using her creativity.
Her story is one of persistence and it was a by chance video submission that landed her in front of a decision maker that said this girl is a star, and a star she has become tackling whatever obstacles come her way.
Anitra is a prime example of someone never giving up on their dream and she never has given up on it and now she is living her dream.
She is going to become a staple in the DIY and actually reality TV realm for some time to come.
"Anitra Mecadon is by far one of the most grounded and sensational guests that I have had on the show, her vibrancy and zest not only for life but for what she does for a living is uncanny. If I had to make a comparison I would say that Anitra is to DIY that Rachel Ray has been for the Food Network, she is a definite gem" stated Louis Velazquez host of the UCW Radio Show.
Websites: www.anitramecadon.com http://www.diynetwork.com/anitra-mecadon/bio/index.html