ACTRESS/MODEL ANNA EASTEDEN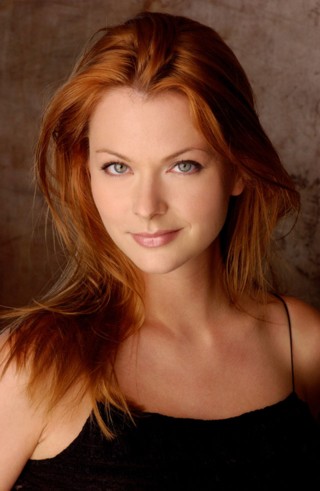 Anna Easteden enjoys a career rich in experience and wide in range as an international model, TV, stage and screen actress, and humanitarian activist.
Easteden is known for her performance as Bee Sting on "Who Wants to Be a Superhero?" as well as notable co-starring roles on "Bones," "Days Of Our Lives" and "Passions." She also played Nicole Brown Simpson in a Japanese TV movie and took on a lead role in the short film "Harmless," winner of 2 prestigious film festival awards.
Personally recruited by multi-award winning director Mika Kaurismaki (who's directed the likes of Johnny Depp, Julie Delpy and Henry Thomas), Easteden is slated to star in his upcoming feature film "The House of Branching Love" ("Haarautuvan Rakkauden Talo") set for release in her native Finland in Fall 2009. Easteden will also work alongside Oscar® nominee Rinko Kikuchi ("Babel") in the Japanese remake of the Oscar®-winning American phenomenon "Sideways" – currently in post-production for a 2009 release.
Easteden was born in Finland and raised on her parents' dairy farm. At the early age of twelve, Anna's career took its first major stride when she won a national modeling contest and appeared on her first Finnish magazine cover. Shortly thereafter, Anna received an international modeling contract with a major Japanese modeling agency and promptly relocated to Tokyo where she appeared in advertising campaigns for such mammoth international corporations as Sony, Phillips, Oricom and Wacoal – to name a few.
Easteden's modeling career next swept her off to such global destinations as Hong Kong, Taiwan, Korea, Singapore, Malaysia, Indonesia, New Zealand, Slovakia, Guam and finally the United States. Once on US soil, Easteden quickly landed a series of major modeling gigs with Calvin Klein, Hermès, Salvatore Ferragamo, Diesel, T-Mobile, Avon, Jockey, Chevy and Nissan – and has been featured in such magazines asCosmopolitan, Harper's Bazaar and Marie Claire. Easteden's interests also include those in the humanitarian arena. Not something one might expect from a fashion model, Easteden conducted a comparative legal research study on the different aspects of asylum procedures in selected European countries for United Nations High Commissioner for Refugees (UNHCR) in Bratislava, Slovakia. Her research impacted the Slovak National Asylum Legislation, which was in the process of amendment. Anna then continued her work in Bratislava, with an international partner of The Foundation for a Civil Society (USA), where she involved herself in the "Citizen Campaign OK '98" for free and fair elections.
Easteden currently resides in Los Angeles with her husband. In addition to her modeling and acting, Easteden enjoys traveling, cooking, writing, and lending a humanitarian hand to a number of her favorite non-profit organizations.
Websites: www.annaeasteden.com