PRO WRESTLER AND ACTRESS MISS NIKI NITRO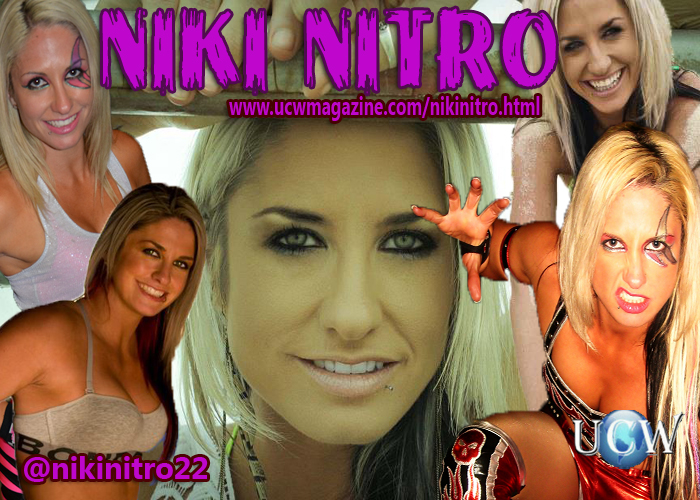 G'day I am Nicole Sharrock. I was Born in Sydney New South Wales Australia on the 22nd May 1981, I moved to *Warilla* (Wollongong) in New South Wales Australia with my mother where I grew up living across the road from the Beach on the South Coast.

I attended Lake Illawarra South Public School & Lake Illawarra High School.
I have always been into Acting, attending Drama Throughout Primary & High School & I also Joined the school Choir & played Drums 6 years.

Apart from my Acting I have always been into my Sports. (My Friends call me a Typical Tomboy) haha

I was into Anything from Surfing, Playing Rugby League, Rugby Union, Wrestling, Rollerblading, Skateboarding the Ramps & Half pipes at the local Police Boys Club where I ended up developing a passion for Power Lifting (Weights) after being approached by the local Head coach of the NSW Power Lifting team at the age of 14 I trained my way up into the 2nd Division for New South Wales but retired from Power lifting at 16 due to personal family problems.

At the age of 16 I Moved out of Home & moved up to Sydney where I lived for 12 years. I had many, many jobs working in Retail, Hospitality, Laboring, Office, Bar & Personal Training after completing her Personal Training course But I was not satisfied with what I wanted to do with my life as there was always something missing from it.

At the age of 17 my Dad took me to my 1st ever Indy Wrestling Show (Australian Championship Wrestling) at Mount Pritchard Liverpool Sydney Australia. Where I finally found what had been missing from my life (Entertainment Wrestling). After the show I approached the company & started training the following Tuesday with Andy *Animal / Daddy Cool* Harpas & I have never looked back I made my Wrestling Debut on the 3rd June 1999 in her Home Town (Warrawong) against Poison Ivy.

I am still Wrestling & am Very much still In-love with it. I have been extremely lucky to Wrestle Across Australia & Internationally as *Miss Niki Nitro* This year I was exceptionally lucky enough to be offered a spot on a International Tour & I flew to Newfound Land Canada. Being the 1st ever Australian Wrestler to represent my Home Soil Wrestling on the LCW (Legend City Wrestling) "Lets Get Rowdy Tour". On Tour with me, was Former Superstars, HOF Rowdy Roddy Piper, Scott Steiner, Rhino & Indy Wrestling Sensation Cult Cabana.

On November 1st 2012 I was offered a Contract to be an Actor on the Australian SBS Comedy T.V. Series (Housos) for Season 2. Which will be aired on Australian TV in 2013. I Play the character of *Hayley* Who is in a Defacto relationship with the Main Actor Franky (Paul Fenech). I also appear in the *Housos vs Authority* Movie that was Released out in Australian Cinemas on the 1st of November 2012.
"Niki has that something special which in my opinion would be an asset to either the WWE or TNA IMCT, and I see this soon to be star will shine bright in that square circle on a larger scale in the near future" Stated Louis Velazquez, host of the UCW Radio Show