The UCW Radio Host Louis Velazquez had the opportunity to have one of the stars of the hit TV sitcom of the 1970's, "Sanford & Son" on the show. 
Demond Wilson along with his co-star Redd Foxx set the entertainment world on fire during the 1970's by opening up doors that were closed for African Americans, in short they were pioneers. Growing up with great direction for his parents Wilson set out on a journey which put God first in his life, with his family at a close second and his career, ministry or entertainment, dead last.
Demond Wilson was born in Valdosta, Ga., on Oct. 13, 1946. His parents were South Georgia natives. Early in childhood his family relocated to New York, where the future TV star began acting on-stage at the age of six.
Between appearances on Broadway and growing up in Manhattan, he would visit his grandmother and relatives back in Georgia each summer. He loved to go fishing for catfish in the local creek, and along with his cousins he sold boiled peanuts at the Valdosta train station.
As his acting career was blossoming, Uncle Sam came calling. Wilson was drafted into the Army, and was sent south to Ft. Jackson, S.C., Ft. Lee, Va., and Ft. Gordon, Ga. Vietnam was his ultimate destination.
He became a decorated soldier during his tour of duty in 1966.
"I was a warrior. At 62, I'm still a warrior. I'm a warrior for Jesus in the army of the Lord. But when you got to Vietnam, everybody was your brother. The staunchest redneck racist became your brother, because you have to depend on each other to stay alive."
Upon returning to the States, Wilson was blindsided by the anti-war movement, which yelled at him for wearing his uniform and showcasing his medals. He had a hard time getting a job, and decided to give the profession he'd been tinkering with since childhood an all-out try. It worked.
Wilson earned the role of "Charlie Blossom" in the 1971 Sidney Poitier film The Organization, which was filmed in San Francisco. This westward move soon led to a cameo as a comedic burglar in an episode of All In The Family.
The producers of a new NBC sitcom caught Wilson's performance on the Carroll O'Connor comedy, and invited him to audition for a role that would forever change his life.
The pilot episode of Sanford And Son was shot in the fall of 1971, and debuted to impressive ratings on Jan. 14, 1972. The show's unforgettable opening, complete with a catchy Quincy Jones theme song, features Wilson driving around in a beat-up 1951 Ford pickup truck, emblazoned with a "Sanford And Son" logo on the side.
The rising actor played the role of "Lamont Sanford," alongside Missouri comedian Redd Foxx, who played the role of "Fred G. Sanford," a junk peddler in the Watts neighborhood of Los Angeles.
He and Foxx had not known each other before the show, but they quickly bonded and their relationship on and off-screen was magical. Wilson writes about this in his new book, Second Banana: The Bitter Sweet Memoirs Of The Sanford And Son Years.
A successful comedic pairing requires a clown and straight man, Wilson points out. He played the straight man perfectly on this sitcom, which rose to No. 2 in the ratings during its 1972-77 run.
Sanford And Son was the first black TV show to hit the ratings jackpot. However, the Norman Lear-produced show did require some tinkering by Wilson and Foxx. A team of mostly Jewish writers penned the show, and the dialogue of each episode had to be re-written and ad-libbed by the black actors.
Almost 40 years after the show premiered, it continues to air in syndication in over 40 countries around the world. TV Land broadcasts the show to over 93 million U.S. homes.
The success of Sanford And Son has led to many falsehoods about Wilson, rumors that he addresses in the new book. He says that he thought once and for all he would set it straight and tell the truth. He was never addicted to cocaine, and he didn't become angry and chase Lear down the hall with a gun, a rumor that gives him a good laugh.
After Sanford And Son ended in 1977, Wilson appeared on other TV shows, including Baby, I'm Back, and The New Odd Couple.
Wilson's small screen gigs took a back seat in the 1980s when he became an evangelical minister. He's traveled the world to spread the Gospel. He's also led a prison ministry.
In recent months Wilson has come out of acting hibernation, where he's combined his love of the Lord with acting in the forthcoming Christian movie Faith Ties, which is kind of a black version of It's A Wonderful Life. He stars in the role of a millionaire that loses everything and becomes a homeless drunk.
In Palm Desert, the Southern Californian with a Southern upbringing lives with his wife of 36 years, Cicely. The couple have six children, and three grandchildren.
"Demond Wilson is one of the classiest guys in Entertainment, his view on life and entrepreneurship in America should be listen to by many people wondering what is that disconnect in today's America. His commitment to God and Family, and his trials and tribulations that he went through as he and Redd Foxx laid the groundwork for other African Americans to excel in the entertainment business is not only impressive but very much so downplayed by the media. I have to say after speaking with him I gained a respect for him as a person which will never wither,"  said  Louis Velazquez host of the UCW Radio Show.
"Demond Wilson's book Second Banana is a must read for anyone that truly wants to know how he and Redd Foxx paved the way for African Americans in the TV arena," Velazquez added.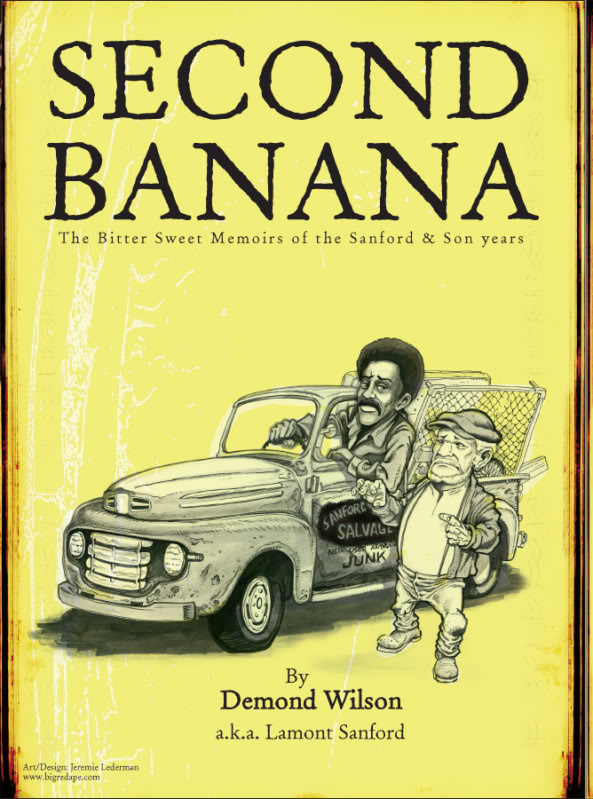 Websites: http://www.2ndbanana.net/